📌 Express

 
shipping 

📌 30 days
 Money-Back Guarantee

📌

 

Order Processed Within 24 Hours
  _______________________
                                                
Keep your cosmetics and tools organized and protected while on the go!

Never have to dig for your products in a makeup pouch, everything is well-organized and easily accessible.
Adjustable dividers



Fully customizable and interchangeable dividers that are easily removed and rearranged to fit whatever shape gadget you have.
Keep your products tight and impact without any Breakage or Spillage.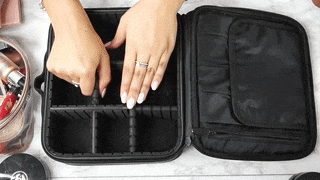 Durable & waterproof
Made of premium PU leather that makes the bag waterproof, shock-proof, spill-proof, and scratch-resistant.
Separate Brushes Compartment
It comes with a separate space to hold your brushes and protect them from dust.
The design of the flap can keep brushes and the rest of the items in the bag from getting dirty.
Plus an extra zipper pocket for palettes and small items storage.


Portable and compact
The size is also well thought out as enough to fit everything but not too big to waste space, makes it a versatile choice for you to take to work, party, traveling, or any outdoor activities.

Multipurpose
Nifty bag isn't only for your cosmetics but also for storing toiletries, essential oils, Jewelry, electronic accessories, and so on.